Orthodontics
Are you afraid to smile because of your crooked, gappy or misshapen teeth?
Don't worry. We know just the right orthodontic braces that can help you obtain a beautiful smile. If you feel self-conscious about your crooked and misaligned teeth, our highly experienced team of dental professionals are here to help. Using cutting edge and innovative teeth straightening systems, Dentist On Queen makes "getting braces" an easy, straightforward and efficient process. We offer modern orthodontic braces that promise a speedier and more discreet process – not to mention successful aesthetic results. You no longer have to live with wonky or unevenly spaced teeth. Our cutting edge systems include Clear Correct and Damon System, both of which are designed to move your teeth to the desired positions using gentle but effective force. At Dentist On Queen, we are able to treat a wide variety of teeth alignment issues. We stay up to date with current techniques and technology, including the latest minimally invasive procedures, to make sure all our patients receive professional dental care with your optimum comfort and beautiful results in mind. Whether you are getting braces to enhance the beauty of your smile or straighten your teeth for hygiene reasons, please call Dentist On Queen (located on 97 Queen St, St Marys NSW 2760) at 02 9623 1261 today!
Why do I need braces?
The importance of having straight and properly aligned teeth cannot be overemphasized. When your teeth are in their correct positions, they not only look and function better, they are also less prone to future dental problems. When your teeth overlap or crowd together, for example, they create tiny spaces that can trap food particles. This makes your teeth a breeding ground for bacteria and prone to a host of related dental problems. Misaligned teeth can also interfere with your bite functions, impair speech and wear out your neighbouring teeth.
Clear Correct (Invisible Brace)
Do you put off orthodontic treatment for fear of wearing metal braces? If so, Clear Correct is the clear brace innovation designed with you mind. The Clear Correct invisible brace system utilises a series of clear aligners that will gently move your teeth into the desired position using minute, computer-calibrated forces. It presents a uniquely straightforward method for correcting a wide variety of misalignment issues including crowded and protruding teeth. All that is required of the patient is to wear a custom-designed aligner on the teeth, and replacing them with a new one in the series, every two weeks. The biggest advantage of Clear Correct Aligners lies in the clear, plastic aligners that fit comfortably over the patient's teeth. These virtually transparent braces do not attract unnecessary attention when worn over your teeth. Designed for both teen and adult wearers, they allow patients to undergo the teeth straightening treatment in a discreet fashion. The removable aligners promise optimum comfort and do not interfere with your lifestyle – they may be removed for eating, brushing and flossing. They also require lesser adjustments as compared to traditional braces, hence less visits to the dentist's office. Whether you are a teen or adult, you can opt for the innovative clear, metal-free braces!
To book an appointment with our friendly team, call Dentist On Queen (located on 97 Queen St, St Marys NSW 2760) at 02 9623 1261 today!
Dr Lu has been practicing complete orthodontic care for over 20 years from mild braces to full advanced cases requiring orthodontic implants and surgical exposures for impacted teeth.There are a variety of different treatment options available including Clear Correct, Damon System and Fast Braces.
Clear Correct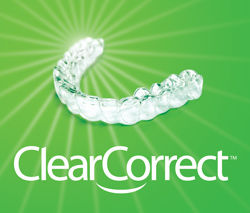 Looking for an alternative to metal braces?
ClearCorrect is the clear and simple choice. No wires. No brackets. Just clear, convenient comfort—every reason to smile.
With ClearCorrect, your dentist or orthodontist can straighten your teeth using a series of clear, custom, removable aligners. Each aligner moves your teeth just a little bit at a time until you eventually get straight teeth.
How does it work?
You and your doctor will evaluate your teeth and talk about any problems or goals you have for your smile. Once you and your doctor establish ClearCorrect is the right treatment option for you, your doctor will take impressions, photos, and x-rays of your teeth that ClearCorrect uses in manufacturing your custom aligners. Then your doctor writes a prescription for your custom aligners and sends it to ClearCorrect.
What can it do?
ClearCorrect can treat a wide variety of issues that keep people from achieving their ideal smiles. Straighter teeth don't just look better; they work better too. Poorly-aligned teeth can interfere with bite function, wear out quicker, and are more prone to cavities. Ask your doctor how ClearCorrect can help you.
Damon System
We use the high quality American style Damon bracketing system using gentle force to move teeth. Dr Lu has many styles of braces to offer, stainless steel brackets, porcelain brackets (tooth coloured) also we have lingual style brackets which are placed on the inside of the teeth on palate and tongue side and cannot be seen when you smile and we also have Invisalign as well.
Contact us to book your consultation with Dr Lu today to improve your smile.
---
CASE 1 - Patient required Jaw Surgery and Braces