How much does it Cost?
Dental Fees
Are you looking for quality dental care to achieve a healthy and beautiful smile? You've come to the right place! At Dentist On Queen, we believe that our patients deserve quality treatments in a pleasant and stress-free environment. Part of our efforts to ensure that you enjoy a great patient experience at our clinic is to offer accessible and affordable rates for our services.
We do not provide "Once Size Fits All" pricing structure
While we endeavour for our dental pricing and fees to be as transparent as possible, it is very difficult to set a price estimate prior to careful patient assessment and evaluation. That is because no two patients are alike. Indeed, all oral and dental conditions are unique to the individual, and as healthcare professionals, it is our duty and responsibility to view each patient as such. In fact, to do otherwise would be unethical and unprofessional.
For the same reasons, we are unable to provide a "one size fits all" fee structure that accounts for a wide variety of treatment options and protocols, without first conducting a proper oral examination. For complex cases, a proper oral exam may involve several tests and x-rays. Before we can prescribe the best course of treatment for you, a thorough diagnostic process is absolutely essential – without which the treatment would be ineffective or counter-productive.
Once your dental condition has been evaluated based on existing records and results of the oral exam, our dentists can then confidently deliver a detailed treatment plan with a cost estimate breakdown of the necessary items.
Of course, the treatment plan would reflect your individual preferences and choices as made during your initial consultation with the dentist – where you are encouraged to ask any questions you may have regarding the treatment.
Price Comparisons
We would also like to address a commonly held misconception when it comes to comparing rates charged by different dental clinics. An increasing number of patients are calling up clinics for rate comparisons before deciding which one to visit. Much as we appreciate the reasons behind the enquiry, our concern is that such price comparisons may prove misleading and ineffective.
Not all dental practices are created equal. From the calibre and expertise of the dental team to the types of materials, technology and equipment used, dental practices that invest in quality over price usually charge a premium, as opposed to those who choose the least expensive route. In so far as dental outcomes, the old adage "you get what you pay for" does hold true.
Dentist on Queen, while competitive in pricing, is not the cheapest. We do, however, pride ourselves on quality work and outcomes – which is attested to by a loyal clientele and robust word-of-mouth referrals. We believe that a happy customer is the best advertisement.
For more information about our practice, call the friendly team at Dentist On Queen (located on 97 Queen St, St Marys, NSW 2760) at (02) 9623 1261 today!
Payment Options
At Dentist on Queen we have HICAPS facility so we can claim from your healthfund on the spot and the Gap Payment can be made by EFTPOS/VISA/AMEX or Cash Payment on the Day, We now also accept Afterpay, Zip Pay and Humm Payment in-store. If you are having trouble paying for your Dental Treatment see below for more options. We are also a Bupa preferred Provider.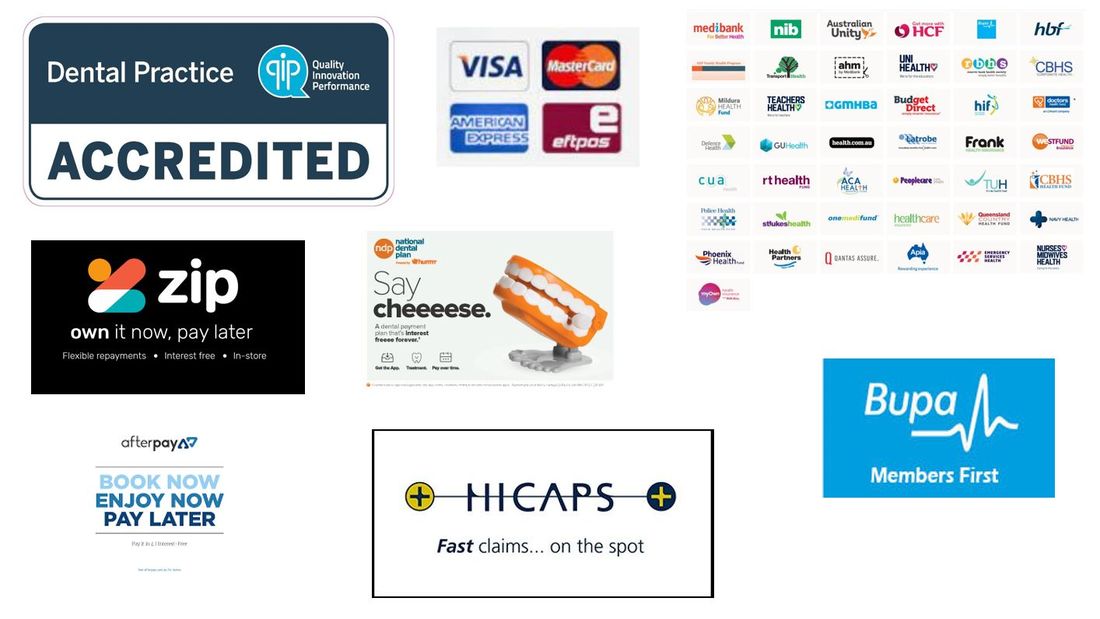 Payment Plans
Humm National Dental Plan:
Humm Big Things can help you with higher value treatments over longer payment terms. You will enjoy fast approval, Fortnightly repayments and no interest ever. All available for an establishment fee of $70 and just $8 a month. Also you can make additional repayments or pay plan out early with no payout fees.
To get more information or apply www.shophumm.com.au
Alternatively you can contact the surgery on 02 9623 1261 for more information or apply instore.
MacCredit
Specifically designed for clients having Medical & Cosmetic treatments
Payment plans up to $50,000
No stress – the whole process is managed privately by our Consultants
Flexible options – any additional repayments or rebates from Medicare/Private Health can be added back on to the payment plan at no extra charge
Fast efficient approvals, simply apply online. Credit Representative 484002 is authorised under Australian Credit licence 389087
Terms & Conditions:
To go directly to the Mac Credit application and apply click here
Speak to MAC CREDIT for a formal quote based on your circumstances and for the full terms and conditions.
A full credit and financial assessment would need to be completed prior to acceptance of any offer or product.